So I can see we have a C5 area now

Here is a little info about my daily driver, which is going stage 3.
Audi A6 Avant 2.7T manual 6 speed from 2001 with around 130.000 km.
I imported the car from Germany in the end of 2011 and then I had it stored to the start of 2012.
Car was chipped by MTM, which turned out to be a bit of pita. More about that later.
Car has the following equipment:
Full sport interior with electrical seats.
Dual zone climate control
Heated seats
Xenon lights
Telematics system which did not work anymore - So I bought a stock Audi Bluetooth module and fitted that instead of the Telematik unit. Works like a charm.
Walnut tree interior.
Audi Sound system, but I changed that for a BOSE sound system instead. Was a bit of a pita to change the wiring, but it worked out great in the end

I'm missing the cruise control but I bought one from Kufatec. That will be installed very soon, pictures to come.
Multi function leather steering wheel.
Symphony II radio - I'm considering getting a RNS-E navi system since the car already has GPS etc. from the Telematik unit. But currently my good old Garmin will have to do.
My stage 3 builds is actually almost complete, just need to sort that last mapping.
Here is a bit of info, will try and take some more pictures of the parts and the car.
Wagner Exhaust manifolds
Wagner Intercoolers - Only had to trim the carbon air intake ducts a bit and everything else was a perfect fit.
Wagner 3" SS downpipes with sports cats - I had to cut and weld the right downpipe so it would clear the gearbox bracket, but besides that it fitted perfect.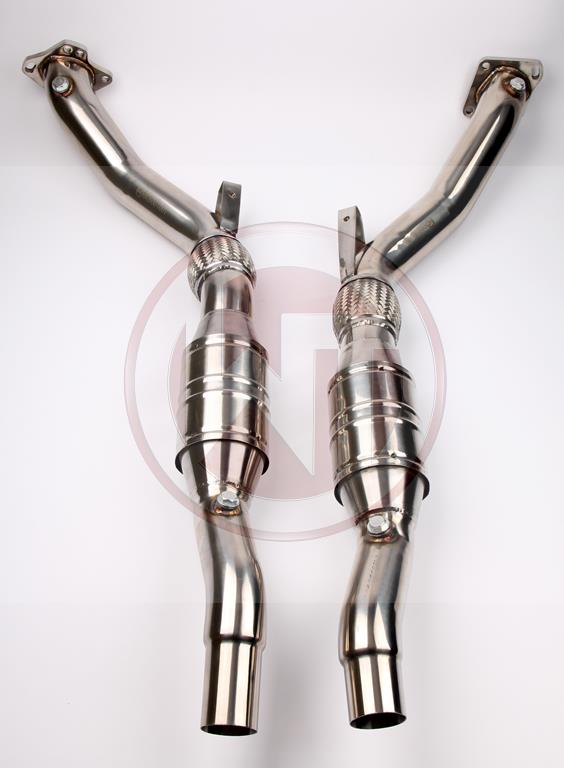 The rest of the exhaust was changed with a Jetex Exhaust system in 2.5". Only adjustment to this was that I had to add reduction so it would fit over the downpipes and adjust the total length. (Pictures to come).
KO4 turbo's - Here is a couple of pictures when had to pull the engine.
All the small bits and bobs
034MS 89mm MAF housing with OEM RS4 hose - Drilled a small hole in the RS4 hose and stuck a rubber gasket in it to accommodate the stock PCV hose.
DW300 fuel pump - Still needs to be installed, more pictures to come.
Bosch EV 550cc injectors - With stock o-rings at the bottom and S2 injector clips. The S2 injector clips makes it easier to turn the injectors a bit so there is room for the electrical adaptors.
Forge Motorsport silicone hose
034MS throttle body hose - The forge wont fit under the stock cover.
RS4 intakes pipes
RS4 Clutch
Brand new stock items: N75, MAF, DV's, EGT's,
I'm converting to 2.0 TFSI coils, more about that when I get it done.
Regarding the MTM chip then it turned out that it had a crypto socket.
Since my plan was to use Nefmoto flasher to change the software I had to do something. I found these nice things form a shop in germany
www.chip-service.de
Then I just had to solder the new chip onto the small board and flash it with my Galletto cable and then everything was good again. But bloddy annoying with the MTM crypto socket.
A bit of info about the suspension and brake setup:
I'm running stock dampers with H&R 40/40 lowering springs.
Regarding the brakes this is pretty stock at the moment, running Zimmerman 312x30 discs with stocks pads. Boring[facepalm][facepalm]
Any suggestions to a front brake upgrade that will look like stock but give me better stopping power?
Also a 200km/h when going to freeway curves the car feels a bit sluggish. Is there any whiteline ARB or similar for the A6 to stiffen it up a bit?
Well here is a couple of pictures of the car with the old summer rims from MTM. However I ended up changing them to a set of OEM Audi S6 C5 wheels so it would look a bit more like a sleeper.