First off, big thanks to everyone here who has posted similar projects, a lot of my motivation has come from members here, on Motorgeek, and The Project Pad. Special thanks to Hamish for getting me going with some basic dimension questions.
Project name is because it's such an appealing combination of swaps/parts... but in reality it's a total mess
Bit of back story, skip this paragraph to get straight to the goods. I bought a house in October of 2017, and honestly a large part of that decision was based around being able to undertake this build. At the time my plan was to start with a 4000cs and a pretty rough CGT that's been in the local junkyard for at least 12 years and combine the two into a shorty (Sport replica). Jim dug a 4000 shell out of the woods for me, which was missing most everything except for the chassis parts I needed. Then life happened, I spent a ton of time/effort on my B5 S4 and did a lot of auto-x/track events this summer, so not a lot of focus on this project. Then this spring a MUCH cleaner and more complete Coupe GT popped up an hour from my house for $600, so Dana and I adventured down with some tools, got it running and drove it home without issue. Because it's so nice and complete, the plan changed from SWB to LWB. The primary uses will auto-x, hillclimbs, and some track days, and I felt like a LWB is probably a better handling option for those kinds of events.
On to the pictures!
The Coupe and the 1/3 of the 4000cs from Jim that's left: My garage is under the house and ~11 x 23 with really low cielings and a big support beam in the middle. Not ideal, but AMAZING compared to every other space I've ever had to work in. Plus, with it being underground and only having one exterior wall it self regulates temperatures really well.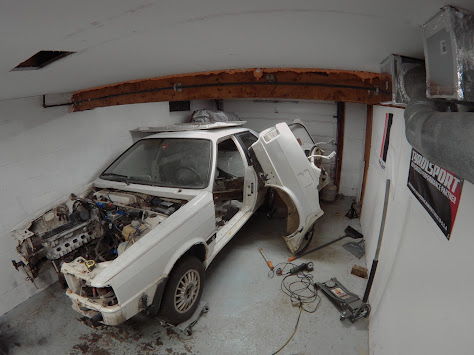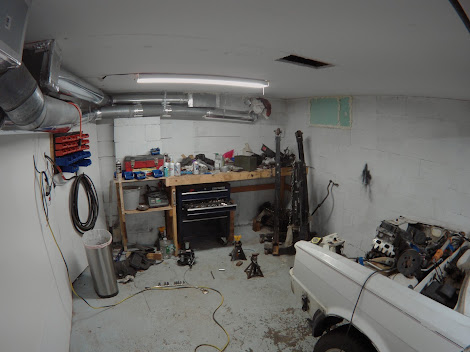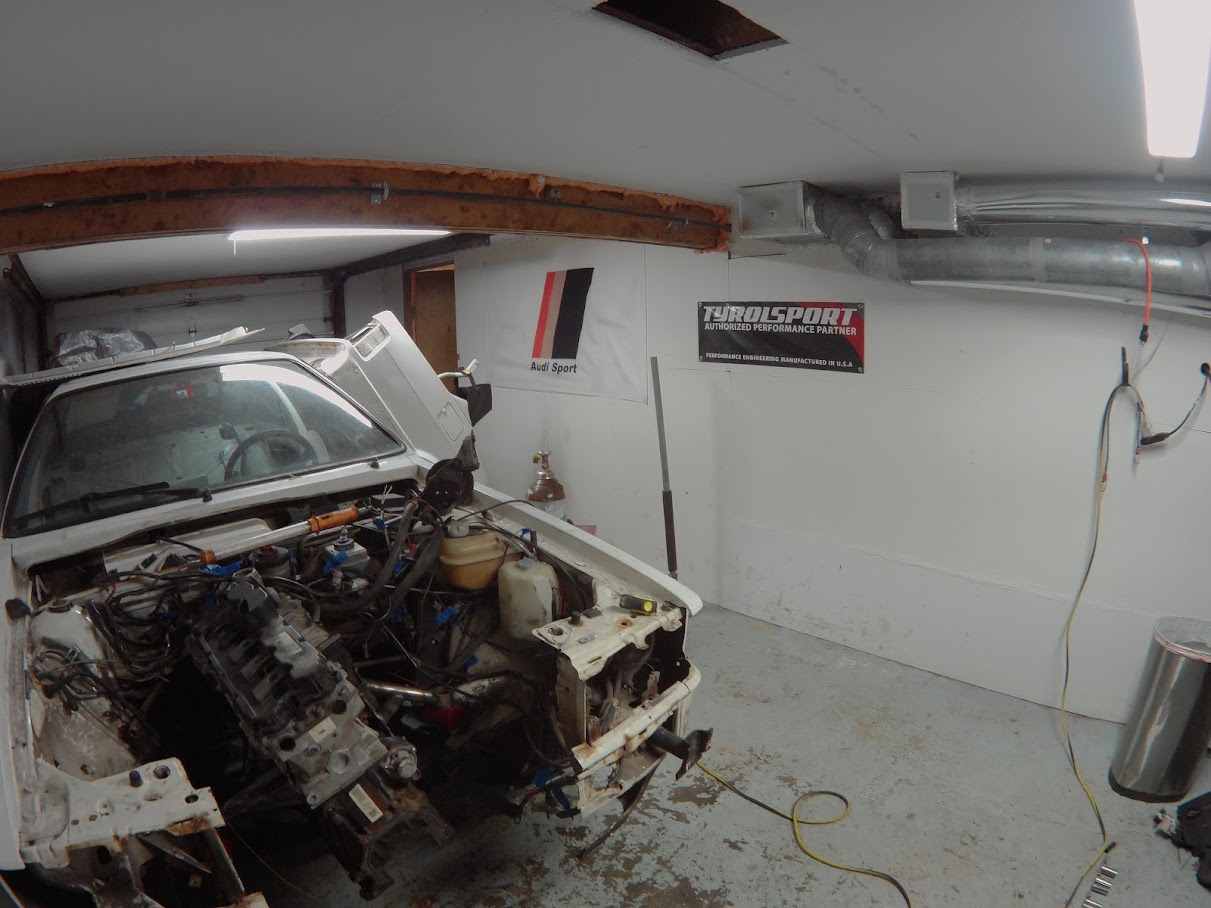 The mockup motor and trans in place: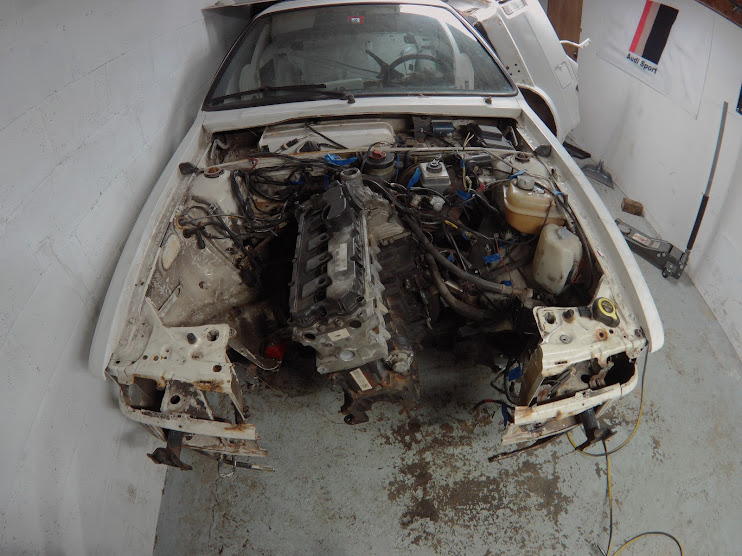 Driver side motor mount catches 3 M8 and 1 M12 (engine/trans bolt) to attach to the engine. To make this work, I slightly back cut one of the mounting bolts plastic and the metal insert that goes through. Luckily, the metal piece is what actually provides clamping force, so this is pretty easy to get precise.
Then engine mount was also moved outboard a couple inches to clear the filter housing. It's not the most elegant solution, but it all fits together really well!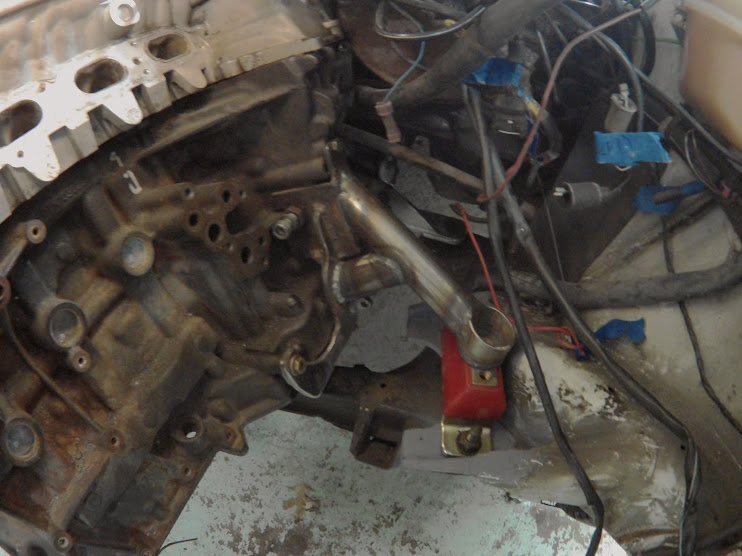 Passenger side engine mount was much easier: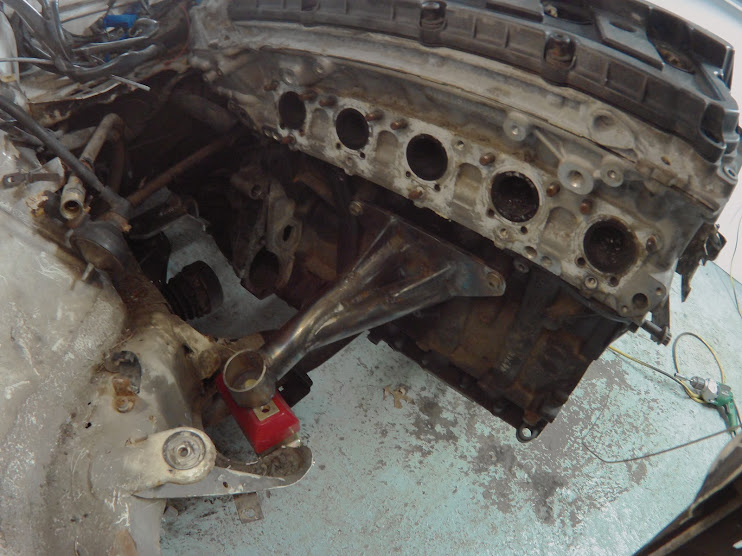 And the net result is that the hood *ALMOST* closes with the stock valve cover. With just a little trimming at the front of the hood I think I could make it work.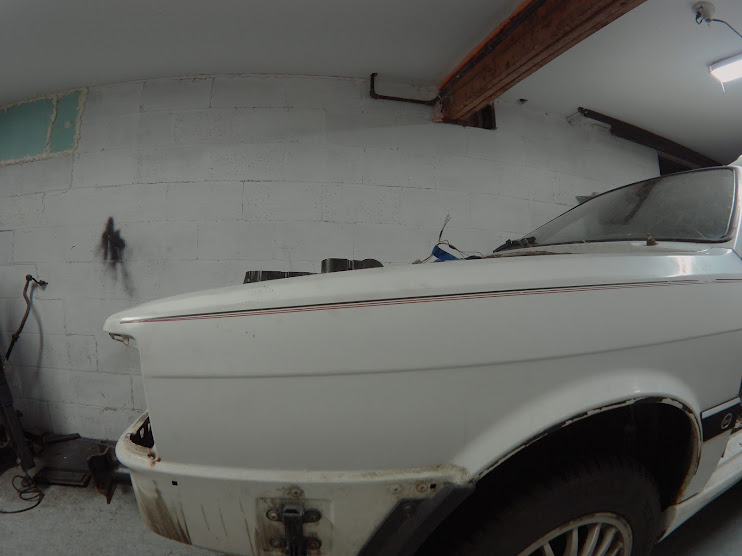 Trans mounts were made from scratch using the original NF motor to help locate the trans:
Passenger side: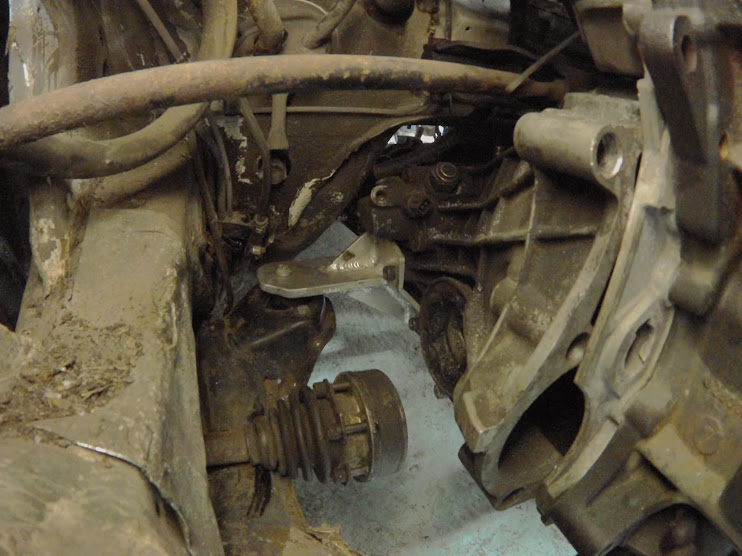 Driver side: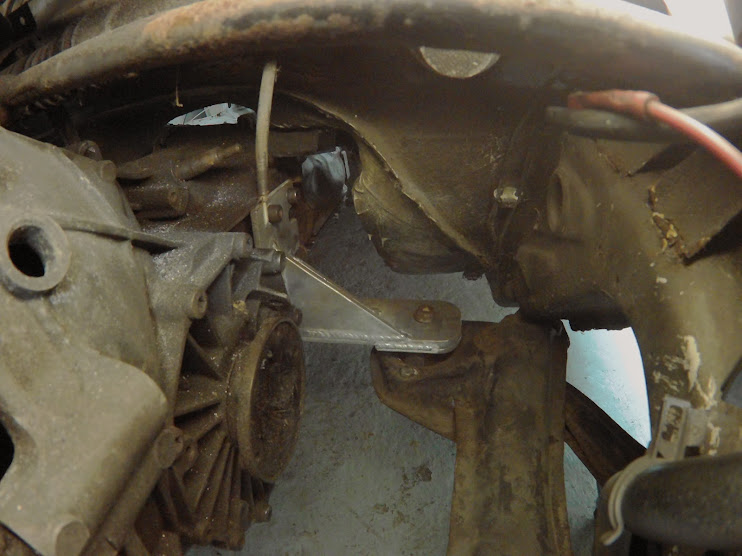 I thought the auto trans tunnel was going to be close-ish, at least in the front. Nope.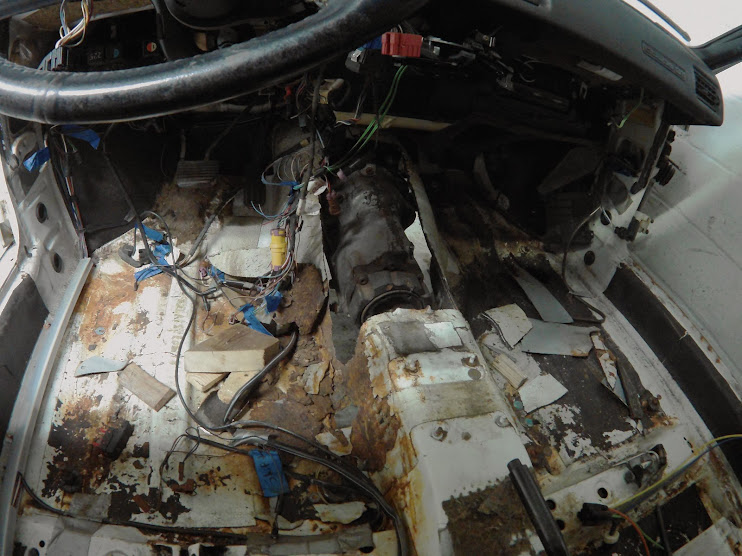 4000 trans tunnel ready for surgery soon: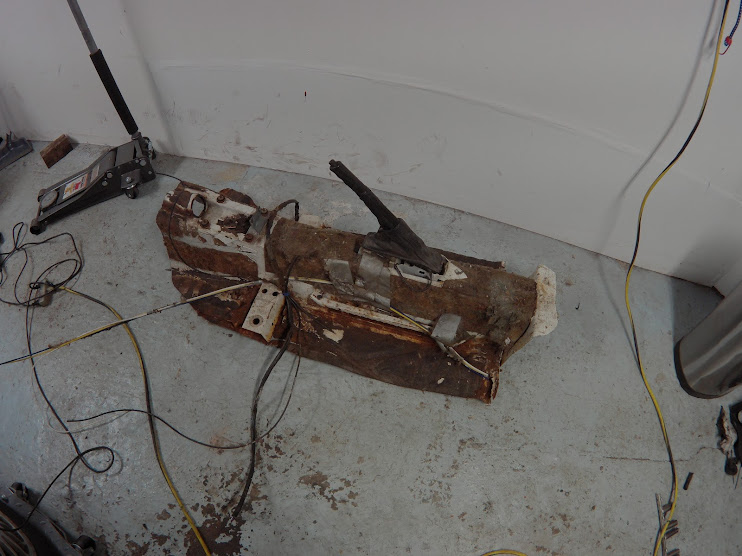 The worst of the cancer I've found thus far: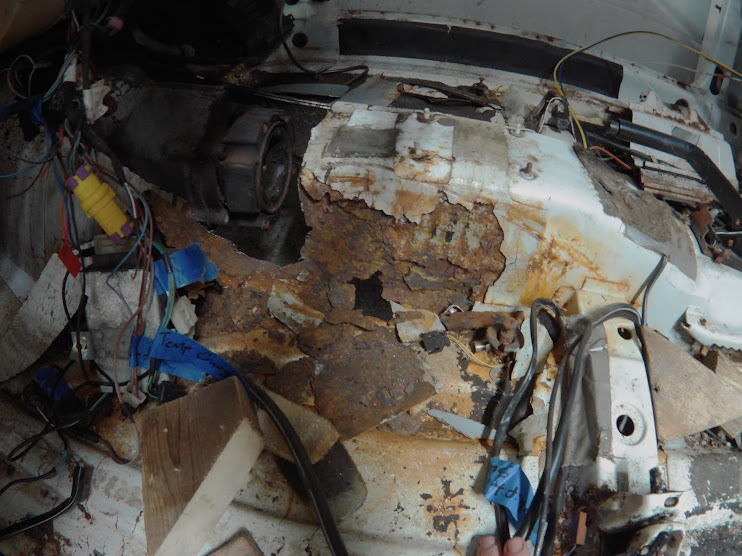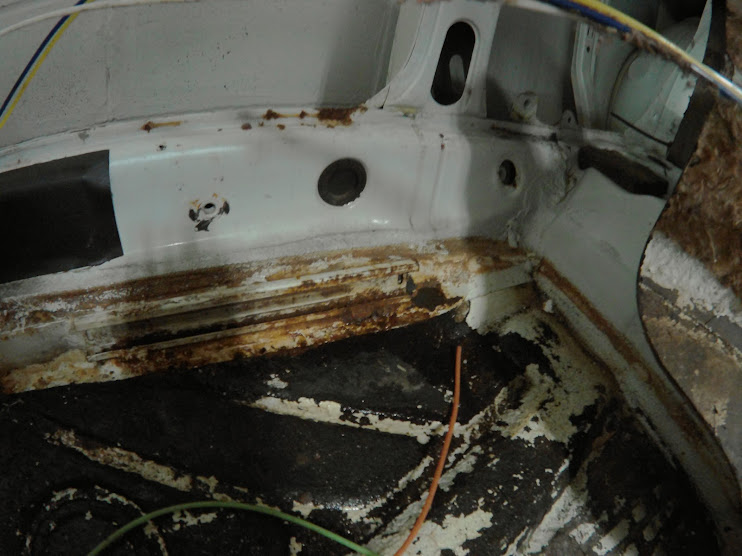 Replacement section from donor 4k: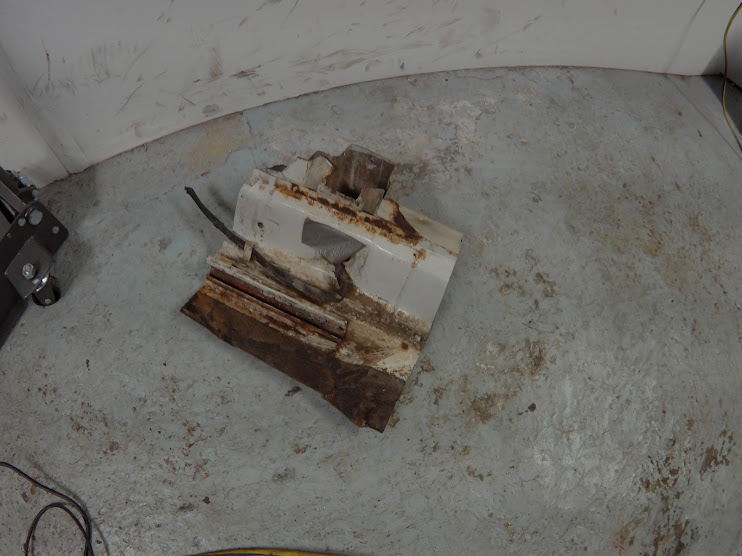 Starting to prep the 4K "shell" for donor surgery: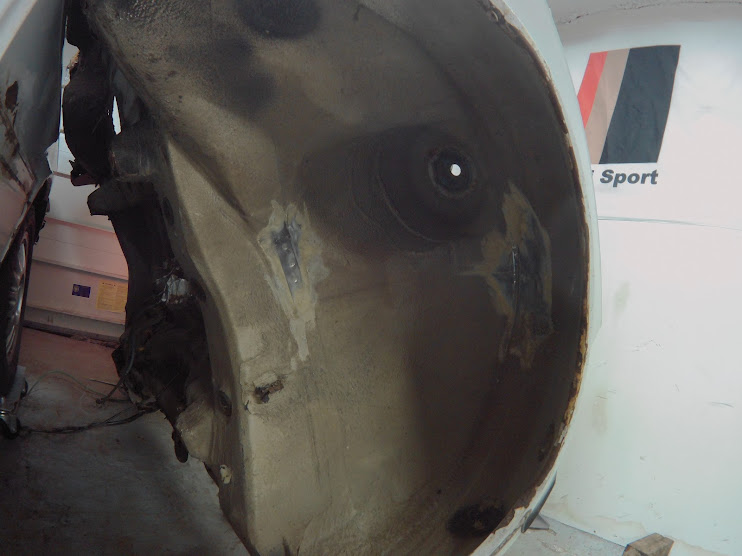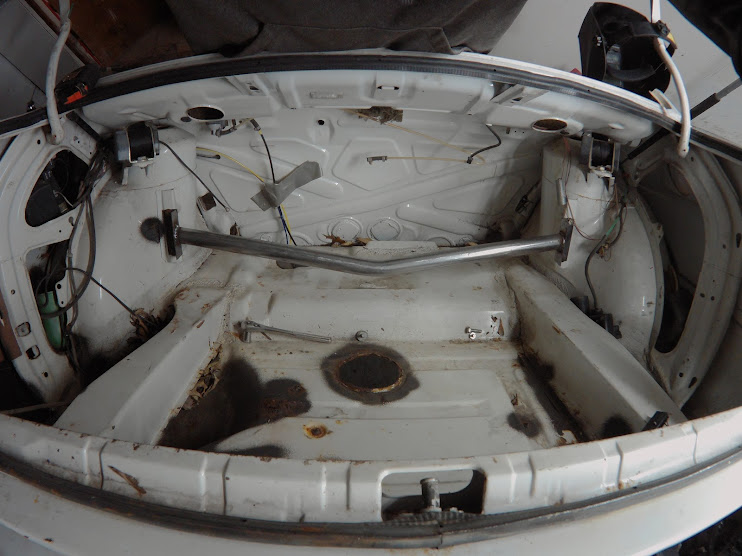 So that's about where I'm at with it! I got this far and realized I really wasn't as tooled up as I would like to be for the project, so between being busy with summer things and spending more time working
on
the shop rather than
in
the shop so not much progress has been made, but that should start changing soon! Stay tuned for a workshop update and tour in the near future.
My current plan is to remove both strut towers from the 4k, build a rudimentary chassis table/jig, and move those over to the CGT via some bracing and jigs. Then I'll have everything where it needs to live and I'll be able to build the subframe mounts. It seems to be the easiest/best way to go about it since I don't care about gas tank/floor pan differences (it'll be fuel cell etc etc). I'll keep this thread updated as that begins to take shape over the next few weeks!
Thanks for reading along, it feels good to be posting about my own ******-old-audi