Hello fellow audinuts!
Just before christmas, our fellow member Crimatix, made a calculated decision about a purchase. A calculated decision in this scenario, is a "GOD DAMN, THAT'S A SKYLINE WITH A 3B/AAN SWAP, I NEED IT!". So we went and picked it up.
Now, this wasn't a short haul. Do keep in mind we drove my 3.0TD 4Runner with basically a straightpipe. We drove almost 1400km in total, which you clearly can see on my daily beater and the Skyline. And both the 4Runner and Skyline was loaded basically up to the roof with parts, tires and frontbumpers. I'm really happy we didn't get pulled over in a wheight control.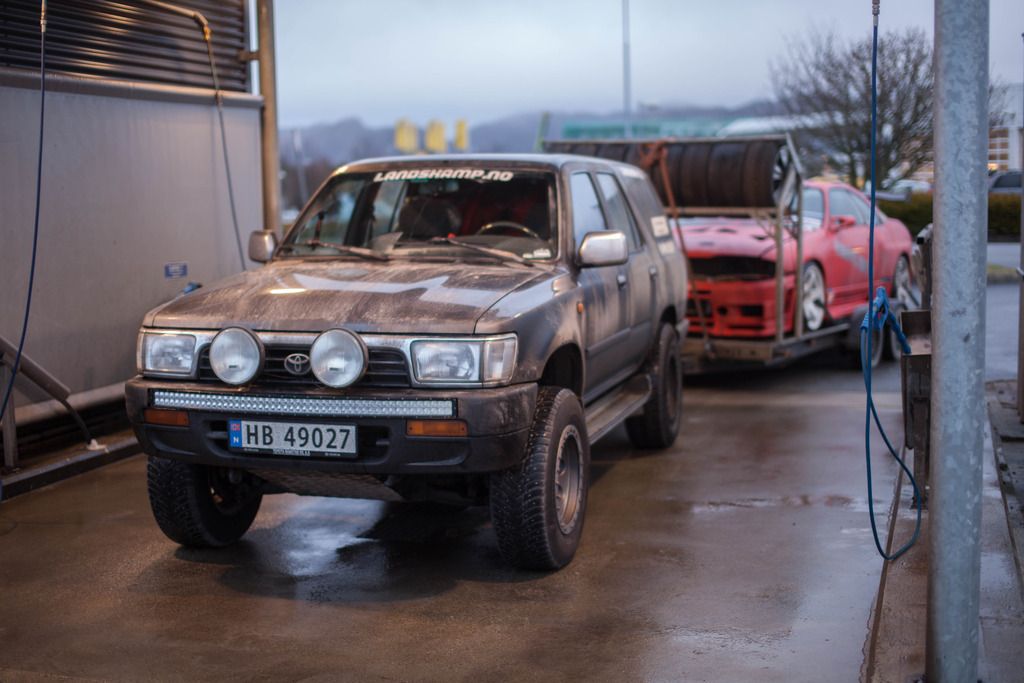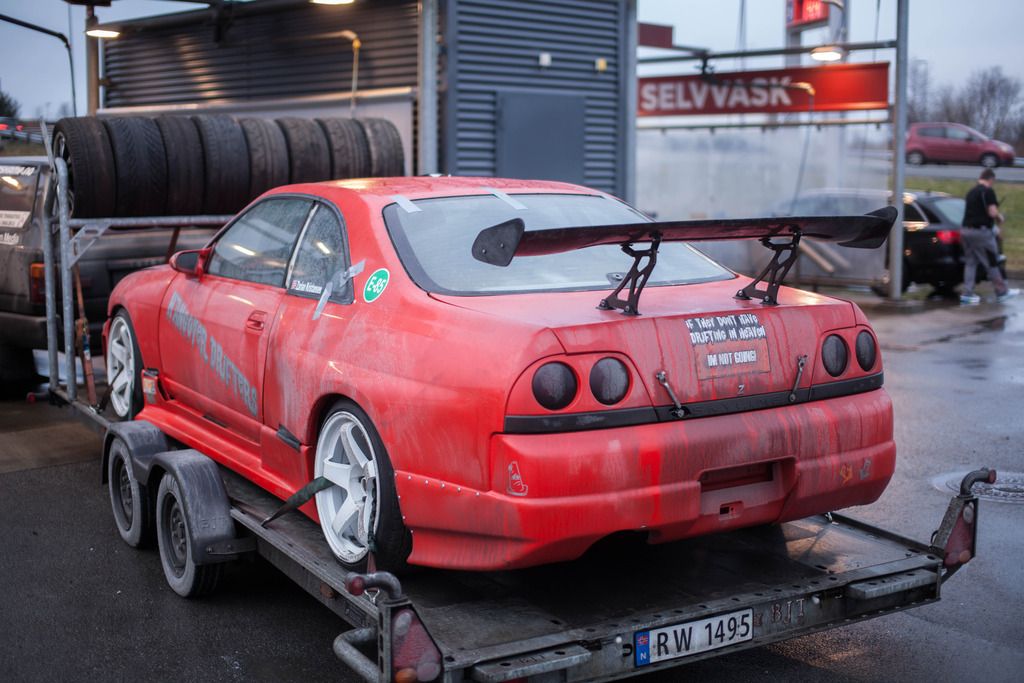 This Skyline is an old driftcar that's been sitting stripped down for 3 years. It's basically a rolling chassis, which has a 3B/AAN dummyblock in it, mated to a BMW ZF gearbox.
Now don't get worried, basically EVERYTHING he/we need to complete the build either followed the car, or Crimatix has them laying around. The only thing we know we need as of right now, is a coilpack.
Here's the partlist that followed with the car:
Skyline R33 GTS-t V-spec / Rolling chassis, LHD converted.
Inline 5 Audi engine. Modified oilpan
BMW ZF M3 Gearbox modified for Audi 5cyl
RS2 evo manifold
Comp Turbo 360 series (450-500HK) needs new turbinewheel
D2 8 Piston calipers w/380 disc
SARD seats
D2 6 point harnesses
Tilton Brake switch
D2 Hydro E-brake
HKS CAMP 2 Video
HKS CAMP 2 Oil temp
HKS CAMP 2 Water temp sensor
Greddy Specc 2 Booost controller
Nismo speedometer org nissan w/color LCD screen
Nardi steeringwheel
Tein steering rods
Tein swaybar rear
Tein swaybar front
D2 swaybar rear
HKS Drag 6,5" muffler
a1000 aeromotive pump
a1000 aeromotive Filter
a1000 Aeromotive regulator (fake)
Sard fuel catch tank 3L, modified to feeder tank
Carbon wing
15m rolls with braided hoses in various sizes
Sard Radiator Race edt.
HKS Oil cooler
Sard Servo cooler
Maxam Tuning 6 row oilcooler
Greddy Intercooler
Inovation lamda kit
Nismo GTR fibreglass hood
Nismo GTR fibreglass widened frontfenders
Nismo GTR fibreglass widened rearfenders
2 new frontbumpers, paintmatched
Rota wheels
Zito wheels
Some random wheels
A good amount of various tires, some new
With that in mind, we do not actually know if we have everything. Along with the rolling chassis, there were alot of boxes chucked to the brim with parts. We haven't had time to siphon through everything yet. (I'm helping a friend of ours to build a B5 Quattro with a 3B engine for Ice Racing, and it has to be done before 25/26 january).
Now, even tho this is a rolling chassis, it doesn't mean it have a steeringwheel mounted. Infact, it doesn't even have the steeringcolumn installed, or even fitted. There is a good reason for that. It was converted to LHD from RHD prior to sitting for 3 years, but they never finished mounting the column
You can just start to imagine how it was to get this up a barnbridge, with no other way to steer it than manhandling the front wheels. In addition to that, it don't have functioning brakes at the moment. After some arguing, shouting and ****ing around, we managed to drag it into the barn with the 4Runner.
Here you can see Crimatix thinking "What the actual **** have I done?"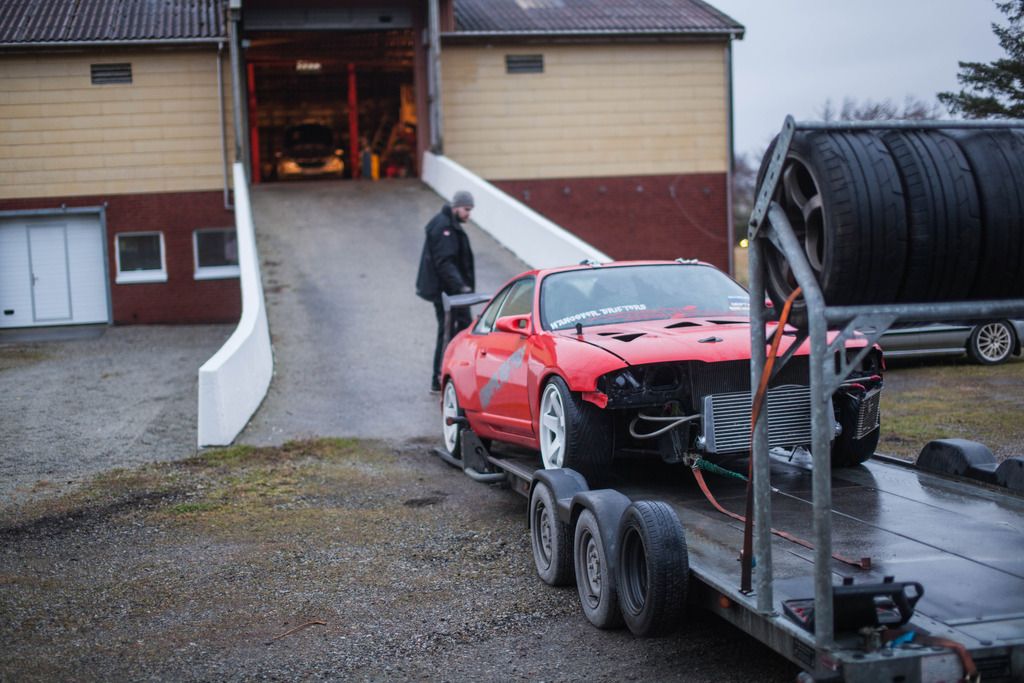 And it actually turned dark outside before we managed to get it inside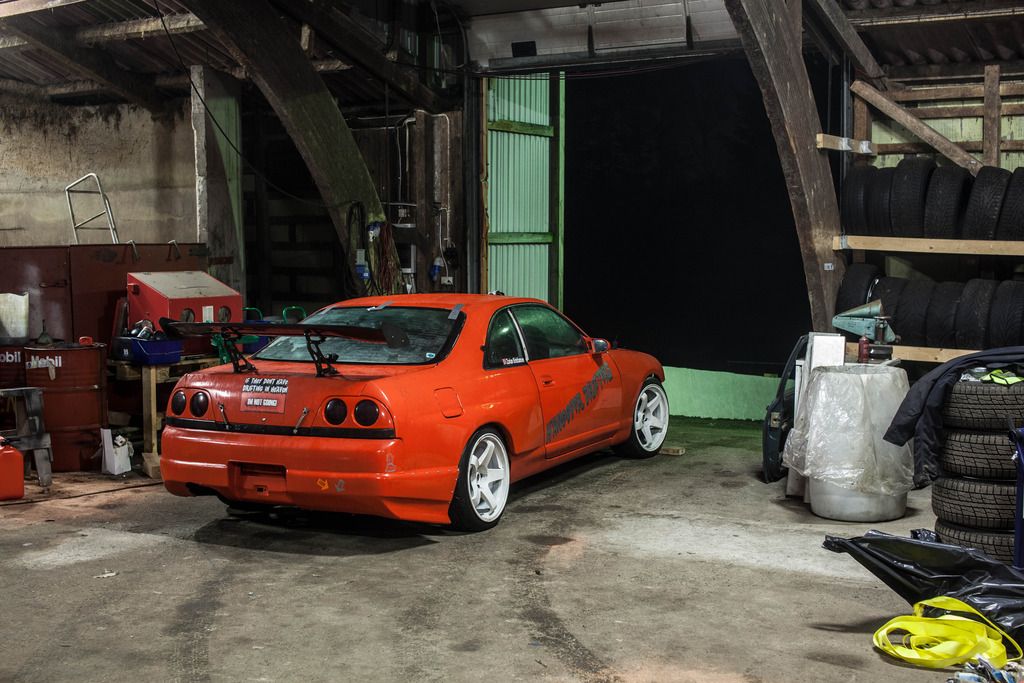 Given that we're going to work alot on this japanese piece of german choochooness, we decided to move my '77 80 B1 over to Crimatix's spot in the workshop and put the Skyline in my spot due to more space for activities around the car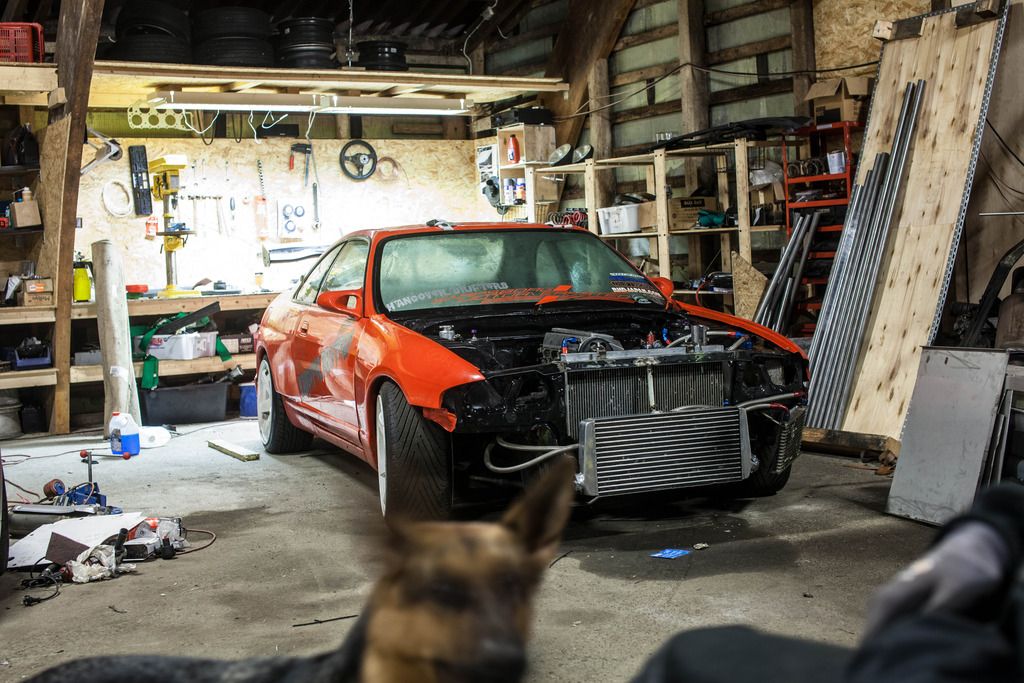 Now, to the most important piece of the puzzle! The engine!
This is the engine that's currently in the car. A bone stock block + head from a URS4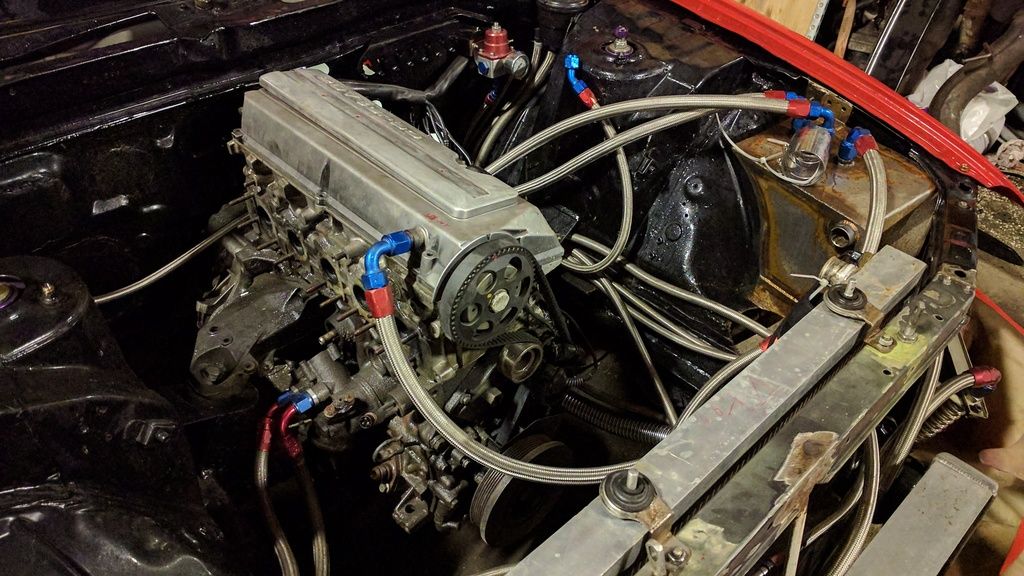 As you clearly can tell, there is quite a bit more room than in a S2/4/6 enginebay. In our ****ed up norwegian minds, this only means one thing. There's room for a turbo. A fairly huge one. And a supercharger.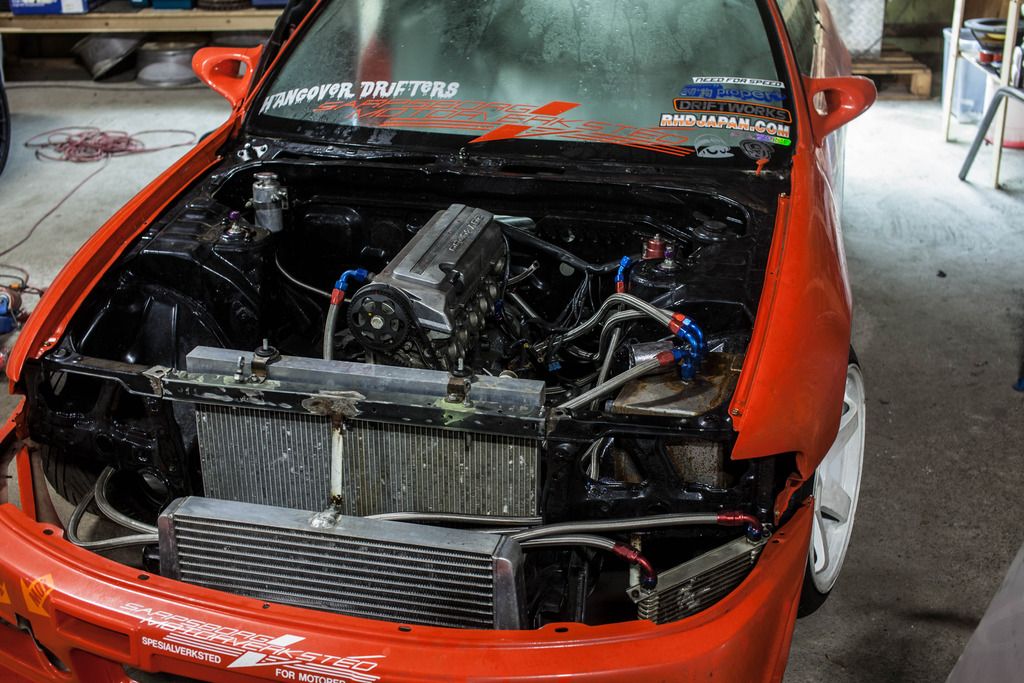 With the supercharger in mind. Here is this piece. This is actually Thuppu's old charger. and bracket. Basically the whole system.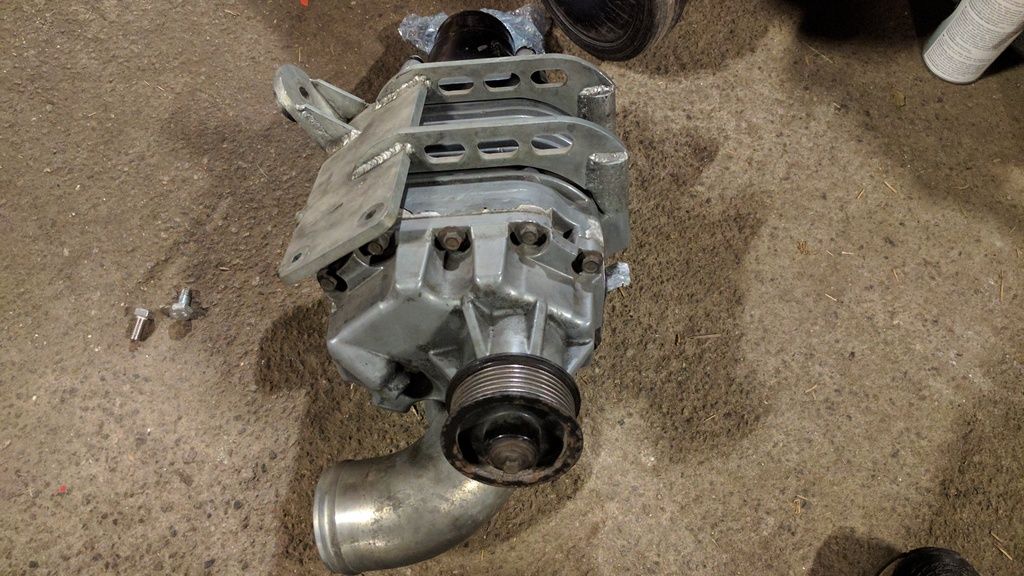 Now, why on earth do Crimatix have this? Well, it was originally going into this S6, with the engine below.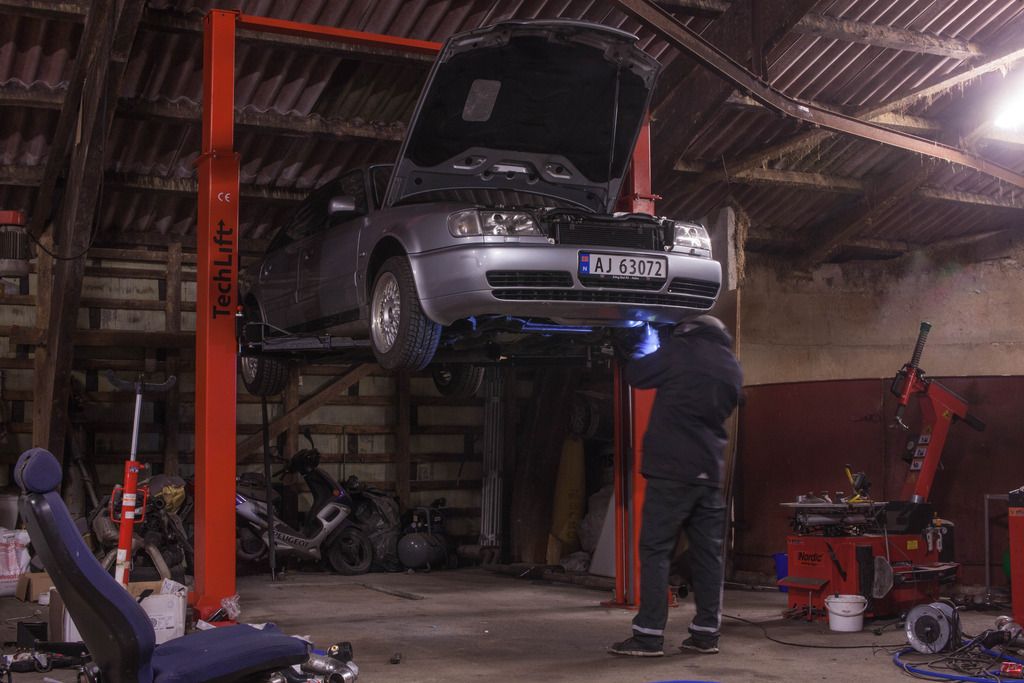 This engine has a 3B block and head, with AAN outer components.
The block has been bored out to 82,5mm.
It has 82,5mm JE pistons and forged H-profile rods.
New rodbearings on all the rods.
New crankshaftpulley
7A/3B flywheel, 4 puck sinter pad and a Sachs 707 pressureplate.
The head has 20V Race springs with CrMo retainers and 10 new ex. valves.
The valveseats are honed/bored whatever the f its called in english, and all the seals are new. The camgear is a adjustable one from 034Motorsports.
With all this mumbo jumbo said, let's get down to the really important stuff.
The supercharger doesn't fit with Thuppu's mountingbracket.
And there's a really good reason for that!
As you might have noticed, the engine isn't canted/tilted, at all. This creates alot of opportunities, on the exhaust side. But it causes the supercharger to conflict with the framerail. As shown here (The supercharger is actually resting against both the engine and the framerail)
As we are going to get a drifting license for this car, we can not legally cut into it behind the mountingpoint for the shockabsorber.
This leaves us with two options.
Option A:
Make a new mount, and mount it higher up. This is, by far, probably the easiest solution. But it also creates a problem. The supercharger is mounted in the stock AC compressor's spot. By moving the supercharger, we probably have to make an additional beltdrive.
Option B:
Re-weld the clutchhousing and tilt the engine. This is also fairly "easy", but it creates a shitton of trouble when you keep the enginemount in mind. It's quite big, and I don't really want to make two new enginemounts tbh. And if we tilt the engine, the left enginemount will probably end up so high, that the engine will actually hang from the mount, not rest on it, as it's supposed to.
Here you can see a HX52 compressorhousing roughly how it wouldn't fit on a RS2 Evo manifold. Just for a comparison as to why we can't tilt the engine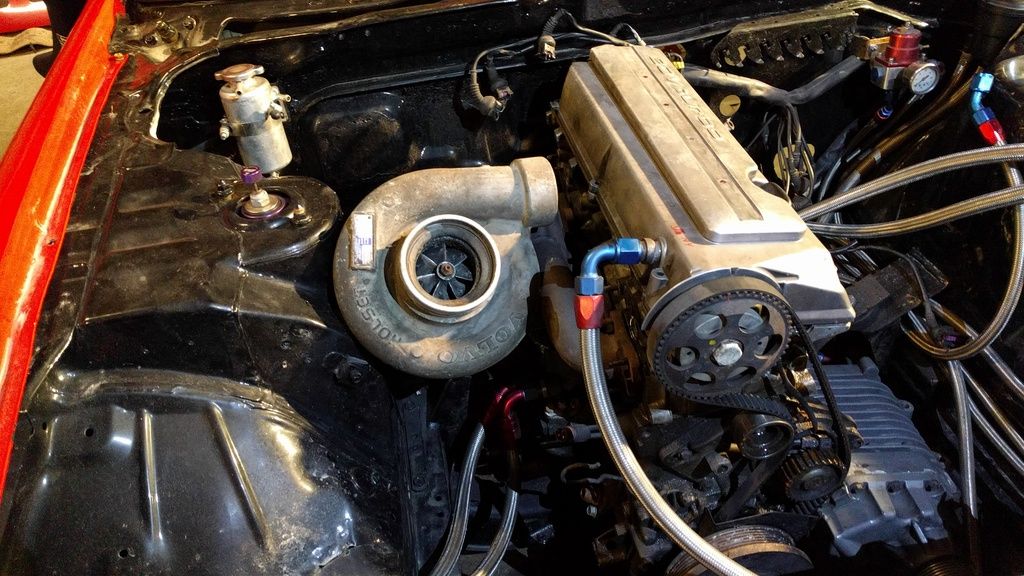 Here is a HX40 on the RS2 Evo manifold, and you can spot the enginemount in question underneath it
With all that said, I want to forget about it again. Not because I don't want it to work, but because we have ALOT to do before we even get to the point of fitting a supercharger to the whole lot.
Now this is the plans for the build:
Chassis:
- Full rollcage. Welded by yours truly.
- Seatbrackets
- Pedalbox placement
- Steeringcolumn
- Front bashbar
- Might make a bashbar for the rear too
Engine:
- Custom exhaust manifold, made by yours truly.
- Fully welded boostpiping for everything
- V-mounted IC's.
- Catchtanks etc, made by yours truly
- Holset HX52, or Garrett TA45 or something similar
- Eaton M90
- Loads of boost.
Exterior:
- No ****s given GIANT wing, Timeattack style
- Diffusers
- Cannards
- Whatever stupid **** we decide is epic.
Other than all of this, if you have read it, we basically have no idea what we're actually doing. Crimatix just buys and sells a ****ton of parts. I'm an unemployed welder/fabricator that loves making custom ****. We've never built a track/racecar, but we'll give it a shot and hope it'll see pavement and destroy tires this summer