What the title really should say is:
Top Mounts Episode IV - A New Hope (As long as you have coilovers!)
Unfortunately this will not work on standard S2 struts!
So the preamble is this: I've so far been through 3 types of top mounts and none have been to my liking

OEM mounts - trashed every few hundred miles
Meyle HD mounts - trashed every few hundred miles
Solid mounts - too harsh with no tangible reward
Most recently I've been running a set of Albert's AKMotorsport offset solid topmounts and whilst I can't fault the mounts themselves, the solid mount is not too my liking, there is a lot of noise & low frequency vibration transmitted into the cabin. There is a slight performance benefit to the solid mounts, but on a road car they are not worth the noise and unpleasant ride IMHO.
So I've been looking at other current options of which there only seems to be Pro-Mounts which are no longer available.
So I thought I'd make something of my own
A couple of years back I got hold of a Leon Cupra R mount which looked similar and I was able to trim the diameter down slightly to make it fit the turret, but the metal skeleton inside was revealed and would have contacted the turrent and rubbed or transmitted the NVH I'm trying to get rid of.
I spotted these online and punted £40 for a pair - Polybush MKIV / A3 / Leon platform lowering topmounts. (Bearings shown not included - approx £25 a pair).
I did have some pictures of them but I dropped my phone in a diesel tank at work so this picture shamelessly stolen from the internet
Compared to an OEM S2 mount they have a slightly different shape to the taper and few mm larger OD at the bottom of the taper. Easily trimmed to size with a Stanley knife. Again pictures missing here unfortunately, but you will see in the pics below the bottom of the taper has been trimmed down. This is the only mod required.
Here is the underside of the poly mount with OEM VAG bearings and top nuts.
You can see the bearing is inverted compared to the S2 one. This is because the bearing is seated on the shock shaft shoulder and the races rides on the upper spring perch, and the spring perch is free to float on the shock shaft.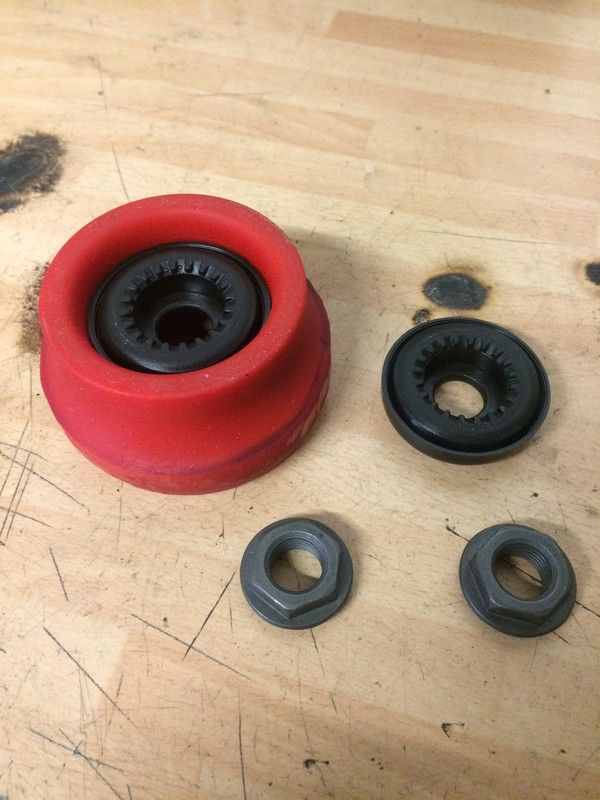 This is a different arrangement to the S2 setup, where the spring perch is seated on the shock shaft shoulder and the bearing is torqued down on top to make a sandwich.
S2 upper spring perch with ~ 14.5mm hole
KW upper spring perch with 22.5mm hole allowing it to float on the shock shaft:
With helper spring removed. you can see the bearing ID fitting over the shock shaft.
KW spring perch on bearing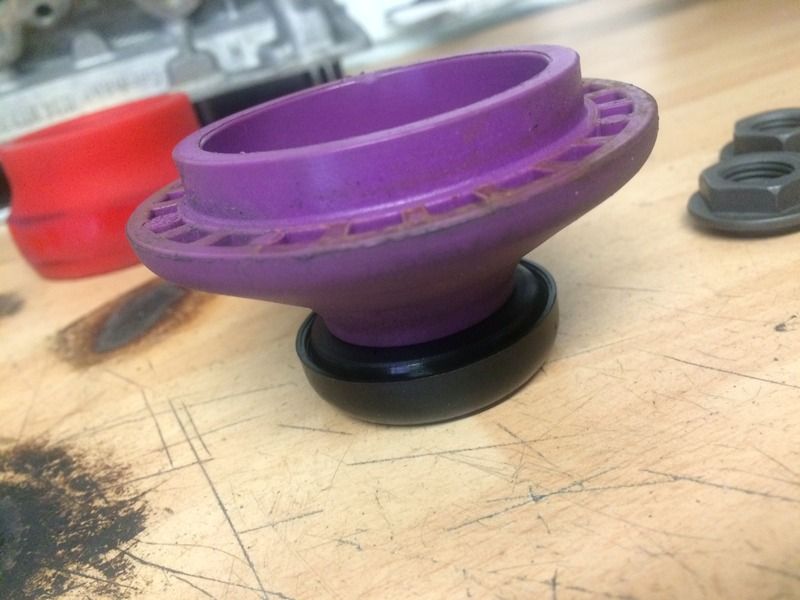 Bearing sits inside the poly mount, plenty of clearance all round.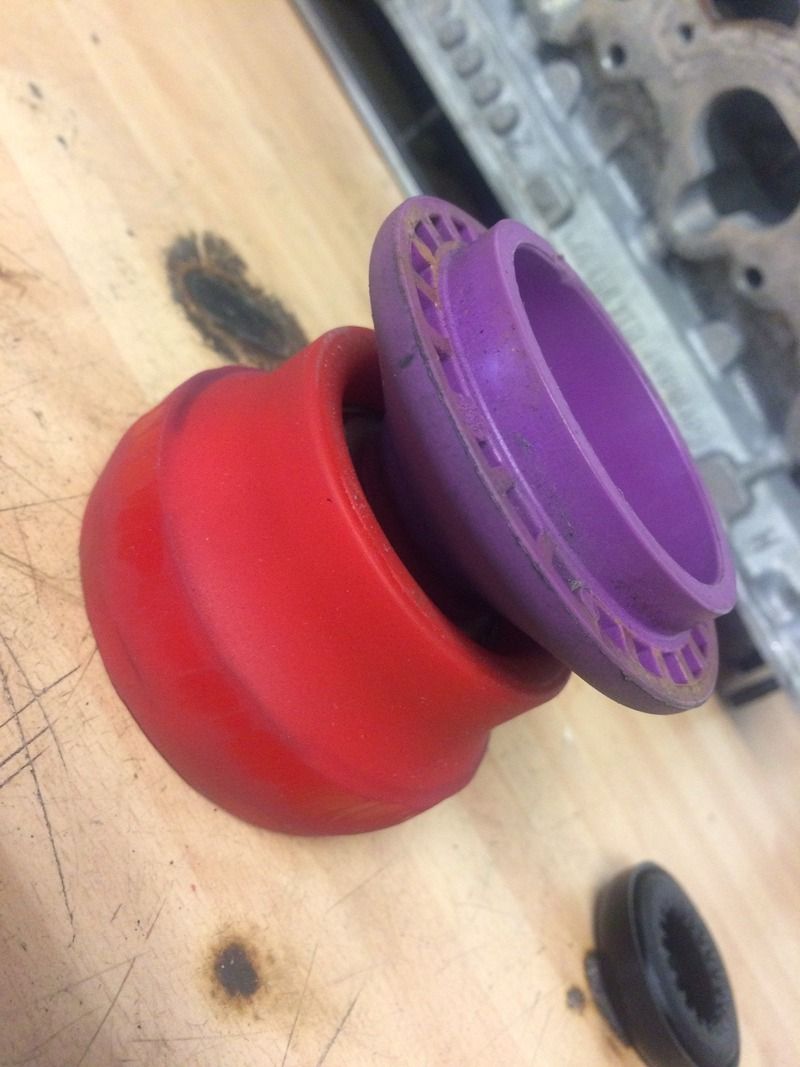 Bearing & nut assembled on shock shaft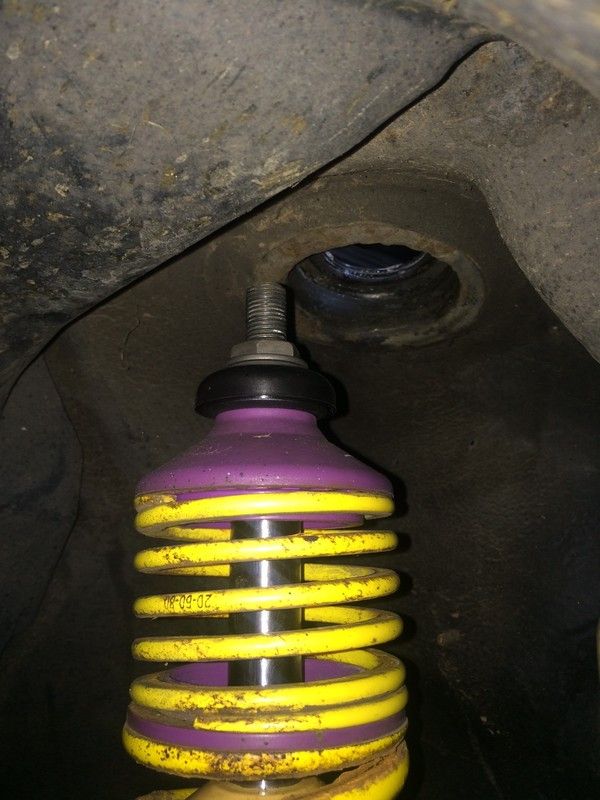 Poly mount pops on the top and up into the turret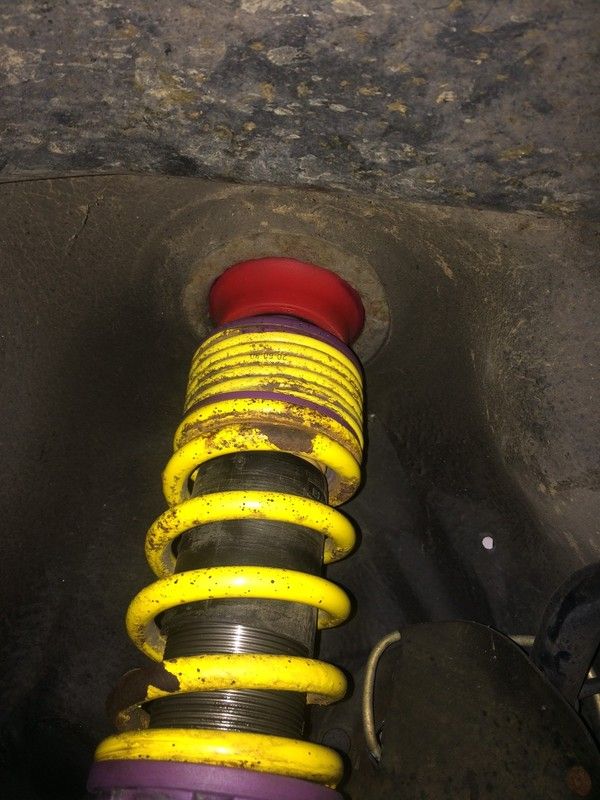 Pretty good fit
The hex nut is shorter than the OEM S2 slotted nut, so just needed a 3mm spacer to give the retainer cup some clearance to the turret top.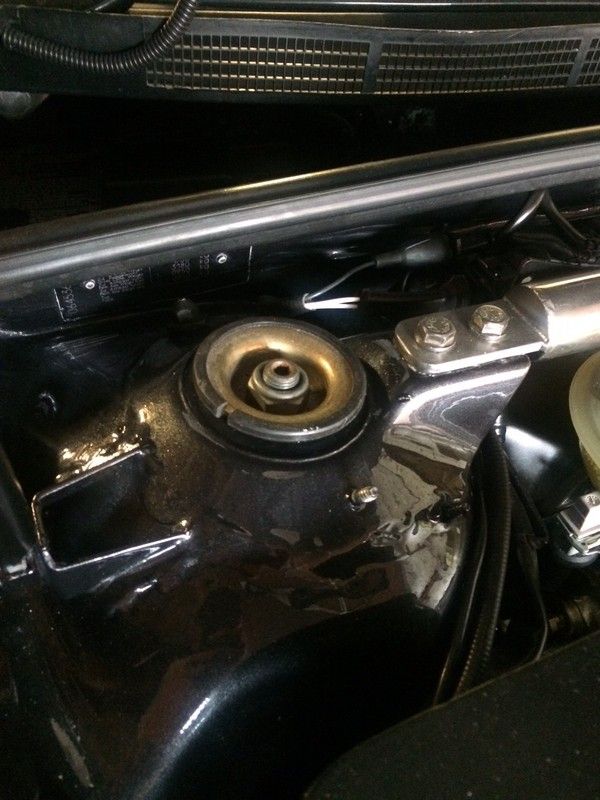 First impressions are good, they feel tight but importantly smooth and quiet. I obviously need to get my alignment done before I can really test them., and get some miles onto them and see how they perform. Only mileage will tell if this set-up stands the test of time. People seem to get on well with them with S3 / R32s which are similar axle weight, so the signs are promising. I will report back on how they hold up.
Just a quick note to warn that even by drilling out some S2 spring perches this won't work on standard B3/B4 suspension, because the shock shaft diameter is too big for the bearing ID. However, fear not I am brewing something slightly different that will bolt on.