I have started a new thread as a year ago i got bitten by a motor sport bug and want to bring my S2 along to a very competitive standard to use in motor sport, this is a track only car now.
The original car was a 1991 Pearl white S2 in pretty mint order i brought it when i was 18 if my memory serves me correct. My First Quattro.
To get to where i have now has taken alot of time and effort, With the nature of my work its mainly time that has always stood in the way and now i am alittle older i have learnt that work is not everything and i seem to be getting some time back.
Spec and out line
:Engine
Blue printed fully balanced
Custom JE pistons
Pauter rods
ARP bolts
Knifed/crack tested crank shaft
Bored and honed block
ARP mains
ARP Head studs
Lightend 3B flywheel sub 6kg
Weaver brothers 4 stage dry sump pump
Pace 30mm water pump pulley
Pace dry sump drive
Own made dry sump system
Rear mounted dry sump tank with pre heaters
Titanium spring retainers
High rate valve springs
Super tech valves 5 angle cut
Repo Clocked cams
Light weight lifters
Pro-Mo Racing adjustable cam wheel
Pro-Mo Racing Exhaust manifold
Triple ball bearing Comp turbo CT67
Tail waste gate
Earls oil cooler
DBR 30mm front pulley (modified)
3B head with welded on hall sensor bracket
Head ported cleaned and tested
Furans Intake (modified)
034 High out put coils
Magnacore custom ignition leads
Intake
Wiggins fittings
Aluminum boost pipe work
Large k&n filter
Large custom intercooler
Modifided throttle body
Turbo smart BOV
Exhaust
4" down pipe
seperate waste gate pipe
twin 3" from down pipe back to side exits
Fuel set up
ATL 60 liter fuel cell
3 Bosch 044 fuel pumps
Swill pot
Braided fuel lines
In line filters
Turbo smart FPR
Nuke fuel rail (modified)
ATL fuel filler cap
Management
Tatech Pro 32 ecu
Custom made engine loom
Race Technologies Dash 2
Race Technologies Data logger
Race Technologies VRS convertor for wheel speed
Ez wiring loom
Own made control panel for drivers needs
Speed controllable Electric water pump
Body
Full multi point Roll cage
Floor mounted seats
Driver moved rearwards by 40cm
Gear box tunnel extended rearwards
Rear of the car opened up for Radiator exit
Naca ducts in rear quaters
Naca ducts in rear quater windows
Lexan rear windows
Heated front windscreen
Front splitter
RS2 front bumper modified
Rear diffuser
Orange BBS RX
Spacro seats
TRS harness
Brakes
Pro-Mo Pedal box
AP masters
AP balance bar adjuster
Tiltron balance bar
Braided lines
Front Brembo 8 pots
RS4 380mm discs
Rear Brembo 4 pots
323mm rear discs
Motol fulid
Brembo and AP fulid reservoirs
Hydro hand brake
Cooling
Rear mounted C&R Radiator (LARGE)
Own made cowl
CSR 900 water pump
twin 14" drawing fans
Aluminum header tank
AN connections
Steering
Electric column
Life line removable steering boss
Spacro wheel
Suspension running gear
AST 3 way adjustable coil overs with Eibach springs and remote resiviors
Own made tubular wish bones with rose joints both ends
Strengthen sub frames
Solid mounts all around
Adjustable top mounts
Knife anti roll bar rear
Gripper front diff
Uni ball modified shifter
Sach racing clutch
Thats roughly about it. But nearly every part is changed in some sort of way
Still on the list to do is
:composite panels
:Finnish dry sump system
:Install suspension have car set up by AST
:Have it mapped
Car started life like this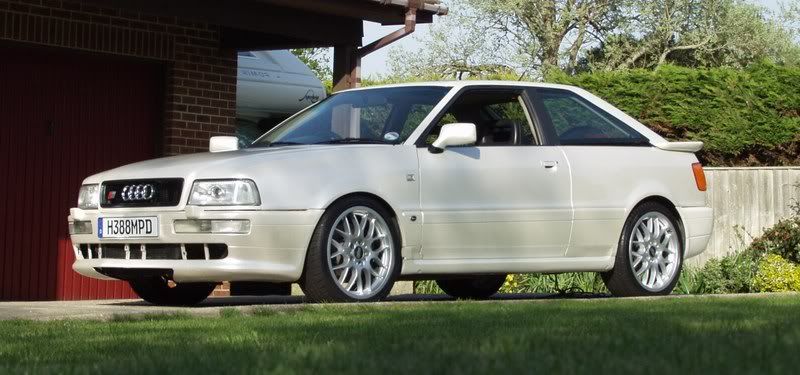 Now looks kind of like this