This is my Gallery of my current pride & joy..... Thoo looking at the first pics you may find it hard to believe....
I laid the car up 6 years ago (73K Full Vag History) when I bought my RS6 Advant - At the time it had an oil leak and I had bought the S2 always with a view to keeping it looooooooong term as when I bought it lots of people suggest that it would become a classic...
Much like the Ur is today (Still Fancy One).... But dont get me started on that one...
Anyway the RS6 has now gone it was getting stupidly expensive to keep it on the road... Last time it went to Audi Doncaster just for an alternator... they found a bust oil pipe from the intercooler and they managed to rack up a bill for 4.5K... To which I told 'em to keep the car and make me an offer - as I was not paying it!!!!!
Fair doo's to Audi UK they stumped up 3.5K for the repairs after I threatend legal action etc etc... but in these hard times I just don't & cant stump up that sort of money every time somit goes wrong.... (DRC Suspension - Gearbox problems etc)..
So the time was right to drag the old girl out of the garage... also after finding a mechanic who knows what he is doing with older Audi's & VW's etc....
So after 6 years in the garage this is how she looked....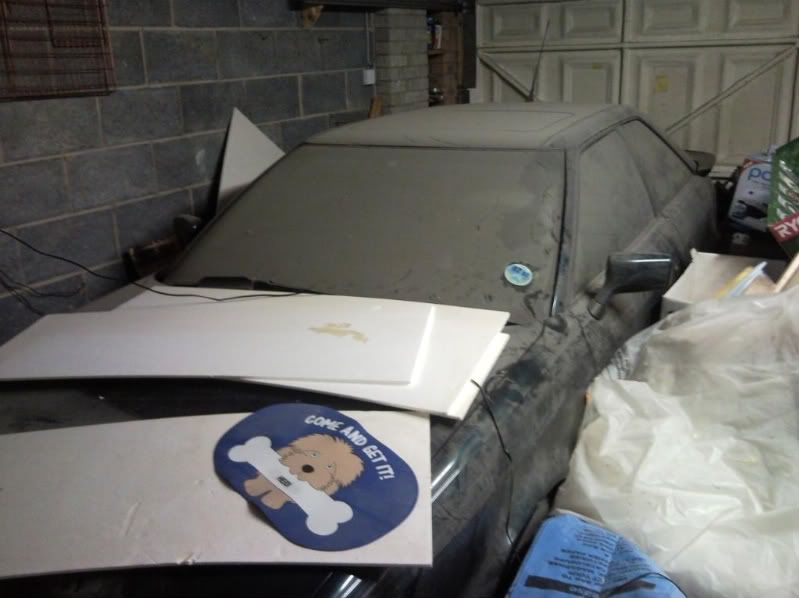 Had to TOW the old girl out..... But after a quick hose down she looked 100% better...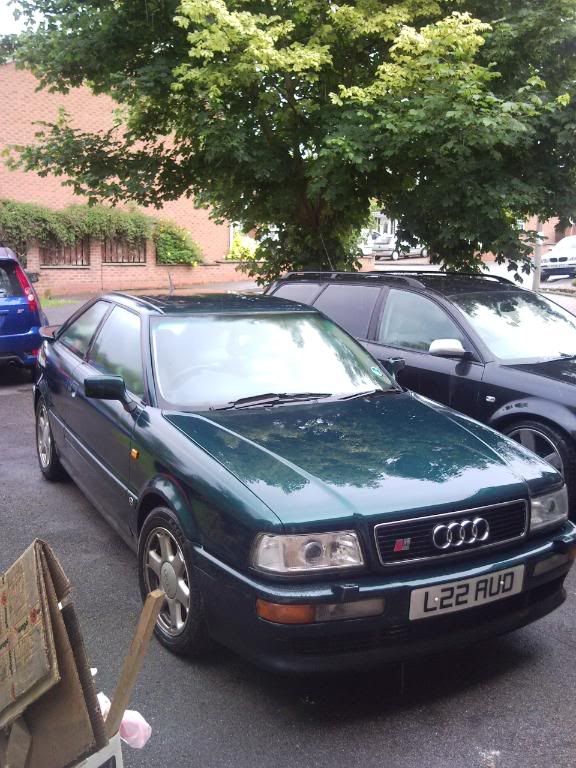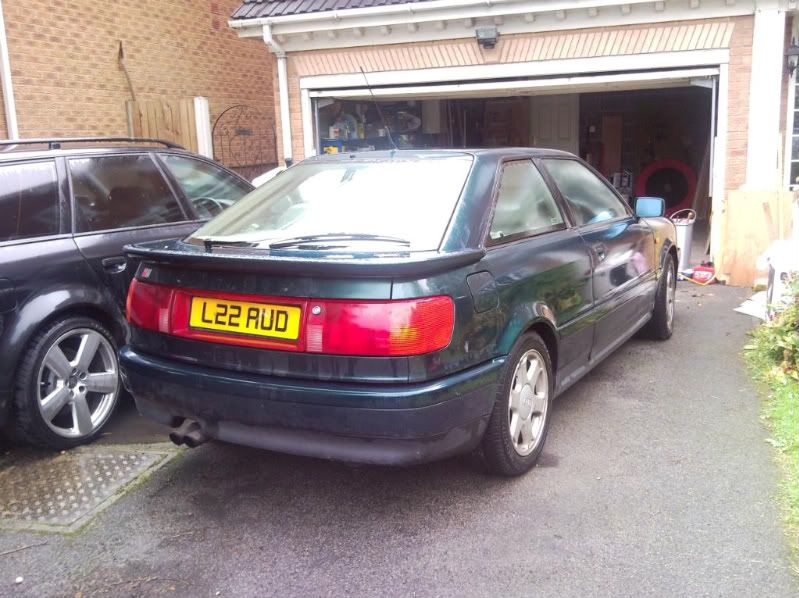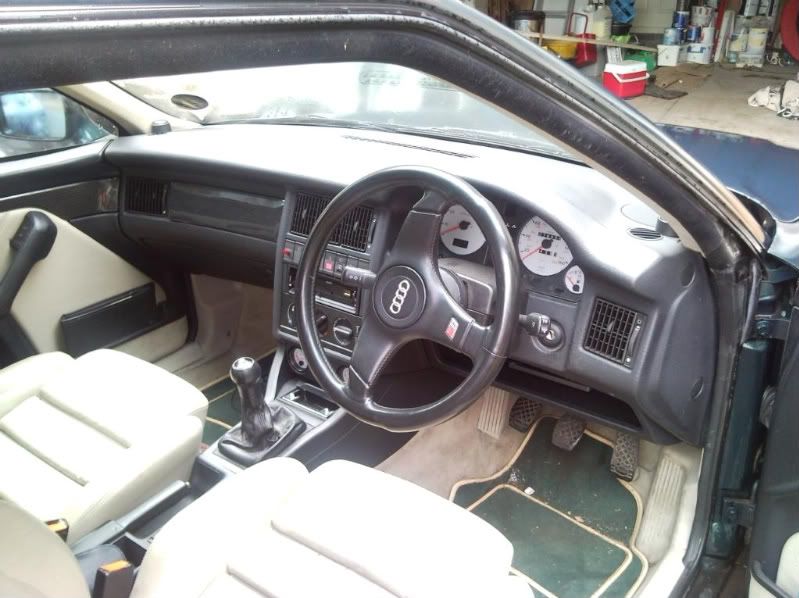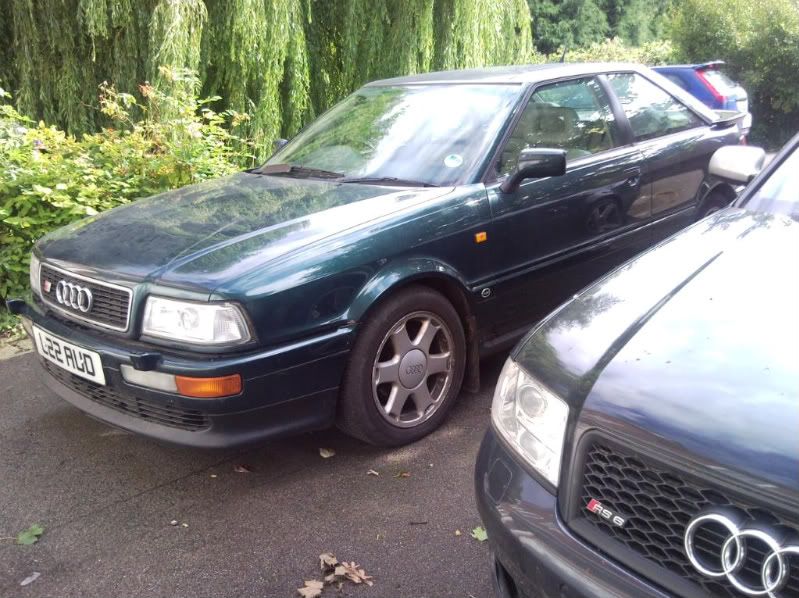 Topped up the oil (always used good Synsytic stuff) charged up the battery (new when laid up) tested all the electrics all seemed fine - well at least the stereo worked... Most important!!!!
Got the Alarm to disarm its self (fortunatly the siren stopped working a few years ago!!)...
Them plucked up the courage to spin her over & "guess what" she sparked in to life 1st time "I Don't Belive It".... Sprank to mind....
Then took her up the road
very gingerly and she re-sparked that Magic Audi feeling....
I know 5 pot - 230BHP vs a V8 - 450BHP seems daft but the old girl Has Real STYLE not like the coffin shifter - might have been the worlds fastest but still..... Every A6 "Nearly" looks the same!!
So the S2 has been in the workshop and guess what I only failed its MOT on rear brake pipes.... Amazing after 6 years...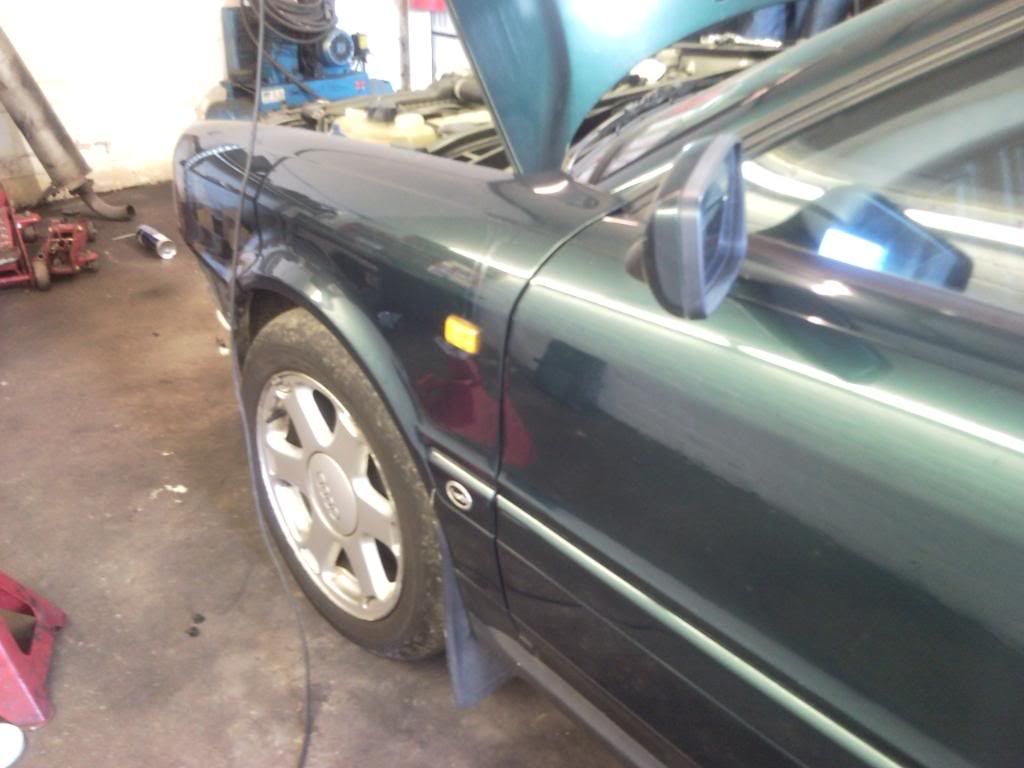 Whilst putting her back in tip top condition we have changed (we means I pay Matt My mechanic does the work

) all the fluids, belts (GSF), oil cooler (Pete@Quattro Corner OEM Part), aux rad (Forum Member) and a few bolts etc....
I had been toying with the brakes upgrade when reading this forum and decided that we might aswell as I know HOW BAD THE Girlings were at fading..... Scared me a few times!!!
So if we are doing the brakes better put bigger discs 3** A8 Zimmerman's & Mintex Pads (GSF) with Boxster S Big Reds (found on fleabay USA - Shipping was HERENDOUS £120.00). Ordered & picked up new spring kit's and anti rattle shims - Dampers (£90.00 WTF) From Sheffield Porsche (JCT 600)
Ummm I had better get some bigger rims.... Dropped on a set of 5 x 18" Orginal Avus's on Fleabay....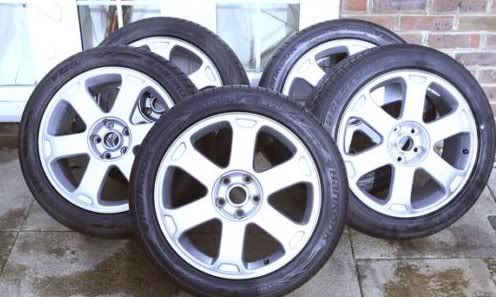 Ordered a set of Mounting Brackets from Kev (Bainbridge+) Forum member... (
http://www.kdr-engineering.co.uk)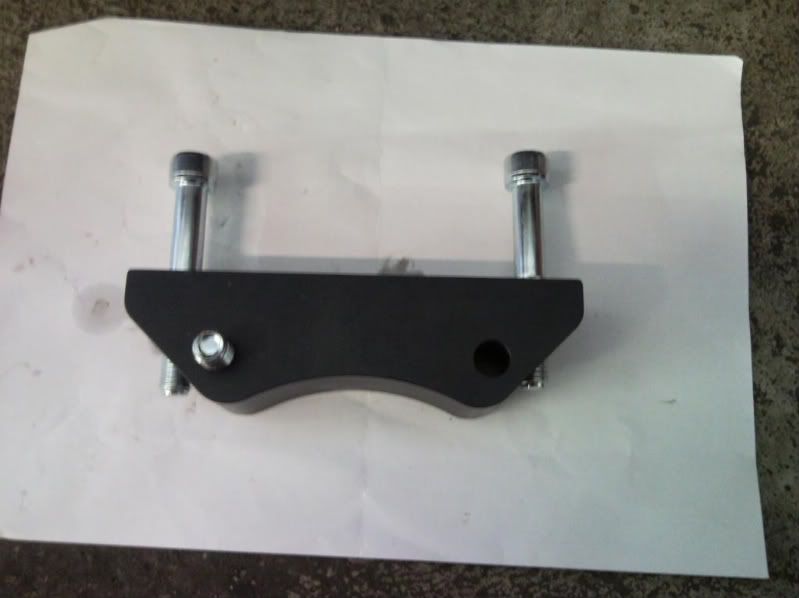 Then ordered a set of 15mm Spacers also from Fleabay (esp.engineering)....
Went to my local tyre supplier - who loves me dont know why???
Guess it has to do with buying lots of RS6 Tyres!!!!! and he Slipped on a 235-45-zr18 rubber Just so I could try it and make sure they cleared the arches suspension etc...
(Auto Dynamics, 774 Attercliffe Road, Sheffield; Telephone: 0114 2431019) Nice guys and stock loads of rims & treads & they know what they are doing.... No dropping alloys wrong way up!!!!
Got all this stuff together today to go and see Matt (
www.Autohausdolby.co.uk
-
Autohausdolby@hotmail.co.uk
) to try and fit at least one caliper.... No go Today anyway the dam bolts for uprights are a different pitch to the standard metric thread... So I am told.... Tried to get some but no luck (GSF Sheffield were downright USLESS and told me we don't do S2 Parts - Is That Right mate well how come you sent some parts to my Mechanic yesterday along with A8 disks.... T**ser!!)
So we just had to do a dry fit of one wheel..... How KOOL does she look now!!!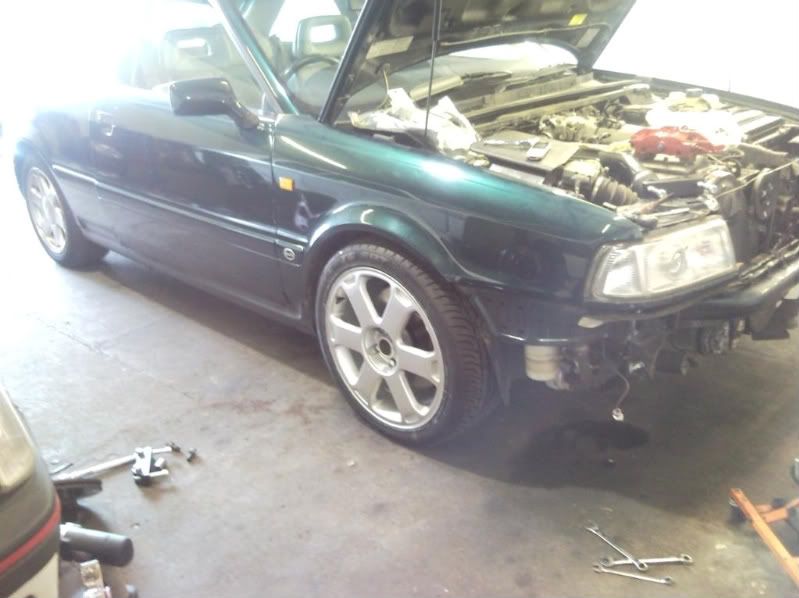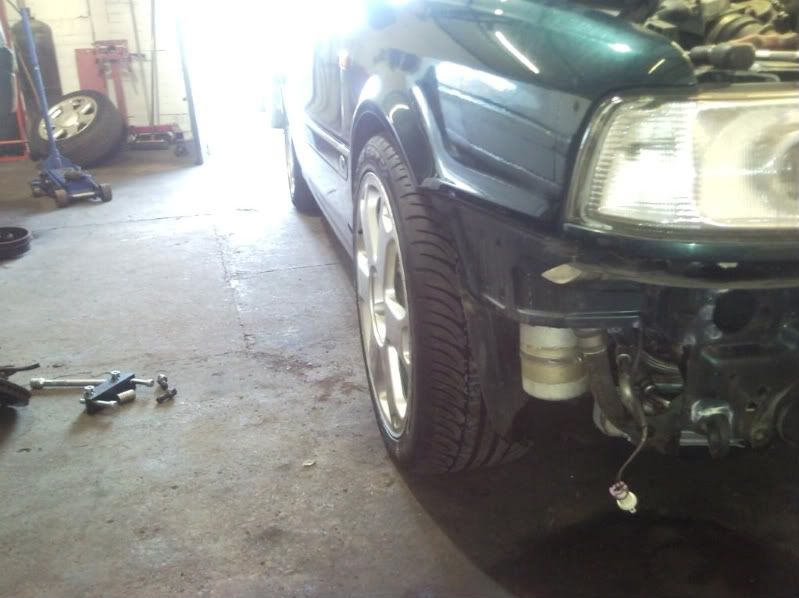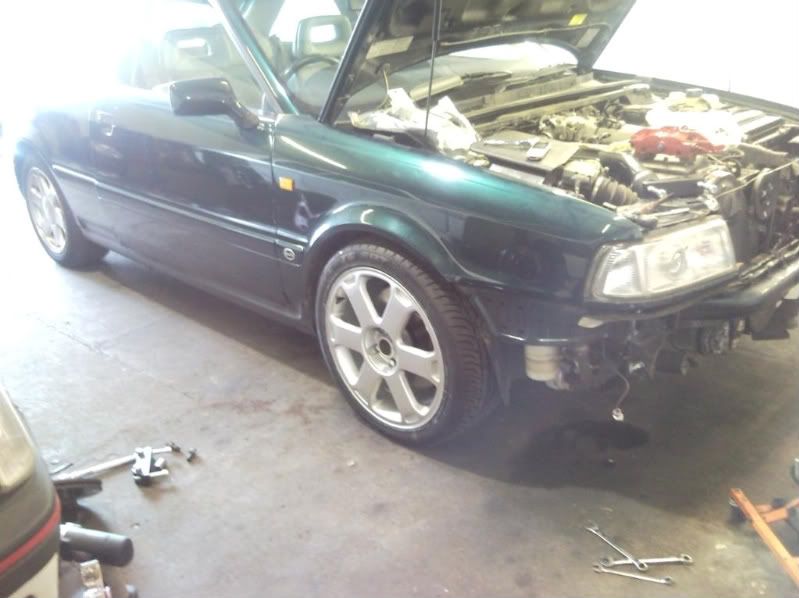 Hope to have more pics when we fit the Calipers...
Then shes off to the body shop for a few touch up items, and a full valet and then she should be as good as new with a few minor mods....